Guess who has two thumbs and a Starship poster signed by Nick Lang, Brian Holden, Brant Cox, JOE WALKER AND
DARREN EVERETT CRISS?
THIS GIRL!
...you just have to imagine me pointing to myself, okay, I don't have any way to give you guys an actual picture.
Thank you,

godlizza
! It's almost embarrassing, I go to cons all the time and this is the most excited I've ever been over an autograph in my life. It totally made my miserable, cold Thursday.
AND NOW WE DANCE!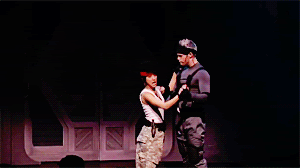 ( DANCE, DARREN, DANCE! )
Green Queen